I probably like too much to undress people. Just a few days after the september 2005 session of Ex/timité - where dozens of people have pressed their skin on my scanner - iMAL made a call for participation in a workshop. They were setting up a three-weeks-long run, with a pack of talented people helping up to ten artists to piece together their interactive installations.
A few hours later, I came up with a nice idea for the call, an idea I'd really like to experiment : The photographer is not a vicious man. An interactive installation that could have the same effect on the participant as a low grade glamour photographer would have on a beginner model: push that person to undress more !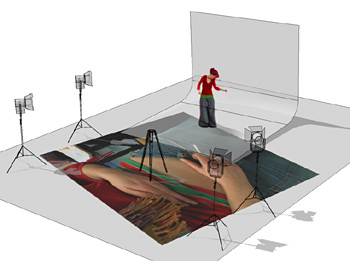 The title came from a song composed by Philip Glass. And the set mimic a photography studio set, where only the photographer is missing. iMAL liked the project. But unfortunately, I was unable to arrange to go to Bruxelles to work on it and set it up, for lack of time and fund for the project.
So this a stalled project for the moment.
But you can read more, in french, on the dedicated page.